Kourtney gave birth to a baby boy in Los Angeles, sources confirm to TMZ.
TMZ broke the story — there were strong signs KK had popped this week … as Kylie and Travis were both spotted at Cedars-Sinai Thursday, and were possibly there earlier.
As we reported, Kourt first dropped the baby bombshell at Travis' Blink-182 concert in June … showing off her baby bump at BMO Stadium in L.A. while holding a sign that says, "Travis, I'm Pregnant," a reference to the group's music video for "All the Small Things."
Things took a scary turn for the couple in early September when Kourtney needed emergency surgery to save the child's life. At the time, Travis was in Europe traveling with Blink-182, and he rushed back to be by Kourtney's side. Thankfully the surgery was successful.
Kourtney and Travis had a major Disney-themed baby shower for their kid not long after that health scare — and all seemed to be well at the shindig … with everyone celebrating. The big takeaway from that get-together, however, was the fact that the baby's name might've leaked. Remember, somebody threw up a tree ornament that referenced "Baby Rocky."
As it turns out … that is their child's name — Travis confirmed as much this past week … saying their boy will be called Rocky Thirteen Barker. A little anticlimactic, but there you go!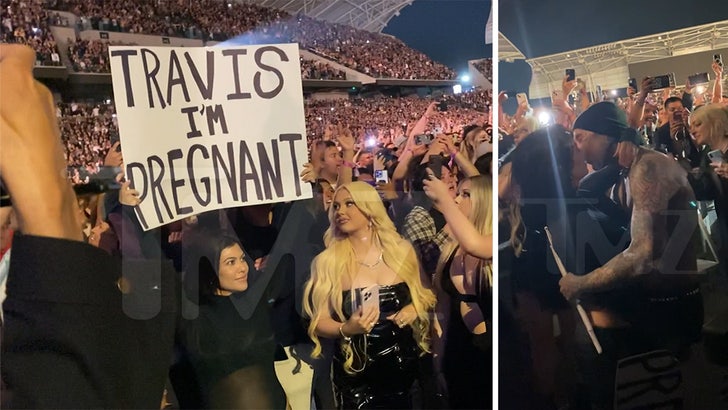 6/16/23
TMZ.com
Since the big announcement, the lovebirds have been looking happier than ever while waiting for the baby to come … doing a couple of drummer-themed photoshoots with the bump on full display.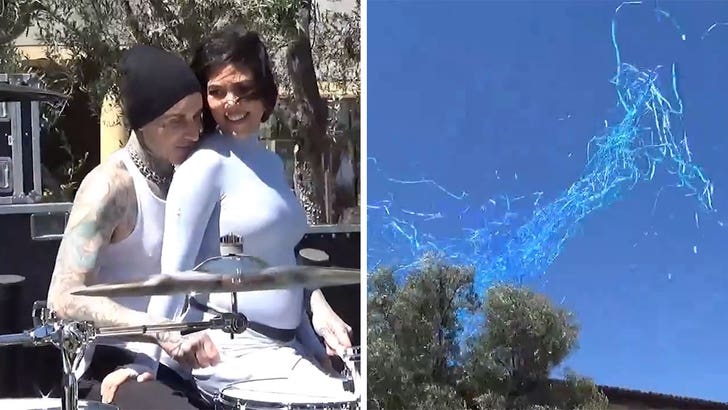 6/24/23
Instagram / @kourtneykardash
She also showed off her pregnancy glow on a Hawaiian beach in July during a tropical trip.
BTW, Kourtney shared her struggles with IVF in recent years, saying on her family's show that her experience with the process has been "awful."