It's the two-hour finale we've all been waiting for when The Blacklist comes to a close, and we say goodbye to Raymond Reddington.
If you're not feeling pretty, maybe you can find some tips by watching The Summer I Turned Pretty Season 2. You never know!
And V.C. Andrews fans will be fanning themselves over the latest Lifetime adaptation. Oh my, is it good!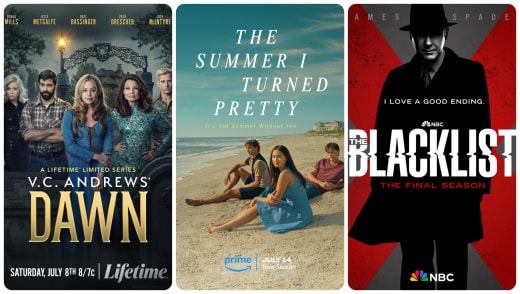 Saturday, July 8
8/7c V.C. Andrews' Dawn (Lifetime)
Are you ready for another star-studded, positively soapy, deliciously entertaining V.C. Andrews adaptation?
Because the Culter saga is here, kickstarting with Dawn, and it's pure entertainment. It has all your greatest hits, dark family secrets, scandal, inappropriate romances, incest, and kookiness. What's not to love?
Don't forget to check out our exclusives, including an interview with Brec Bassinger, and return for a review of the madness. But first, check out the trailer!
8/7c A Royal Christmas Crush (Hallmark)
Katie Cassidy and Stephen Huszar ring in 2023's first Christmas in July original! This is Katie's first Hallmark movie, while Stephen is a Hallmark veteran with Chesapeake Shores and many movies under his belt.
When Ava offers to help her beloved uncle craft an ice castle for a royal family, she meets and falls in love with the charming Prince Henry. Will they live happily ever after?
It's worth noting that Katie and Stephen fell head over heels for each other, so we can only imagine Ava and Henry have a future, too!
Sunday, July 9
8/7c Trapped In the Farmhouse (Lifetime)
If it wasn't bad enough for our protagonist to be on the run from her abusive boyfriend, things quickly escalate when the place she seeks shelter may place her in even more danger.
When she seeks shelter in an abandoned farmhouse, she quickly discovers that she'll be in the fight for her life in more ways than one.
No better way to relax on a Sunday night than with another Lifetime thriller!
9/8c The Walking Dead: Dead City (AMC)
It''s the moment we've all been waiting for, but it's not going to be easy.
Maggie, Negan, and their friends enact a plan to get close in on the Croat and save Hershel.
But, before the gang gets on the road, they realize someone is missing.
9/8c The Lazarus Project (TNT)
George's plan is coming together. He's got the nuclear device Big Boy, and he and his new ally Rudy are hauling it to a population center.
He sets off the bomb, time resets, and Sarah comes back to life. Easy peasy, right?
Of course, things won't go that smoothly for George. The question is whether the Lazarus team will catch on to what he's up to.
Monday, July 10
8/7c The Rising (The CW)
It's flashback time!
We're transported seven years prior to the night in which Victoria Sands died.
Tune in as the supernatural murder mystery unwinds and heads into its final stages.
9/8c Crime Scene Kitchen (FOX)
Guest judge Nene Leakes joins the self-taught bakers as they fight to remain to face the classically-trained bakers.
There's a twist clue that promises to throw confusion into the mix. Will the bakers be able to follow the clues?
ICYMI: Steph and Cherry are riding an unheard-of safety bake streak. Check out their Week 3 triumph!
10/9c Cruel Summer (Freeform)
Why did Megan try to throw out a bloody piece of clothing? That's the big question at hand.
Debbie and all of us are about to get plenty of answers in this murder investigation. Both Megan and Isabella have kept to their secrets, but their webs are unraveling around them.
Can Debbie trust Megan? Is Isabella truly being framed or is she guilty?
The flashbacks are lining up with NYE Winter 1999. We better brace ourselves for what comes next!
Tuesday, July 11
9/8c Outdaughtered (TLC)
America's first and favorite quintuplet girls are BACK, and they're bigger and better than ever! Seriously, when did they grow up so much?!
Danielle and Adam have their hands full, trying to run their busy household of six girls with very different personalities while managing a storefront boutique and adjusting to different roles in the family.
Meanwhile, when their oven breaks down ahead of the couple hosting the Thanksgiving feast, Adam must pull off a miracle!
Wednesday, July 12
Quarterback (Netflix)
Have you ever wanted to do a deep dive into the mind of some of your favorite current quarterbacks?
Netflix's new special gives viewers that opportunity when we follow the likes of Chiefs' Patrick Mahones, Minnesota's Kirk Cousins, and now Eagles' Marcus Mariota through their lives on the field and off during a docu-series.
We'll get glimpses of what things were like for these premiere athletes and family men throughout the 2022-23 season and more!
8/7c Nancy Drew (The CW)
Nick seems happy dating Jade, but there's a lot she still doesn't know about him…like the fact that he's part of the Drew Crew.
So when Nancy shows up on Nick's doorstep, and then Ace, Jade gets suspicious that Nick may be up to something shady.
Meanwhile, Carson and George work to help Bess try to save the Historical Society, but will their plan work?
Check out an all-new Nancy Drew to find out!
8/7c LA Fire & Rescue (NBC)
Inglewood station 172 has their work cut out for them when they must put out a warehouse fire that gets out of control.
Meanwhile, Casablancas Station 125 must tackle so heroic rescues at a multi-car collision.
But if those aren't exciting enough for you, wait until you see who has to respond to a residential call seeking assistance in removing a slithering creature from a poor family's home! Is it too on the nose to say, "Just burn the whole house down and leave?!"
8/7c Masterchef (FOX)
Finally, we're back with some Ramsay goodness!
After a brief hiatus, we get to jump right into Masterchef's signature mystery box challenge, and there's no way of screwing up sweet or savory apple dishes, right?
Wrong! Tune in to see how things utterly fall apart for some of our chefs!
10/9c Mayans M.C. (FX)
The net is closing in around E.Z. as his lies catch up with him.
Enemies are circling, but he might have to deal with some of his issues before confronting everyone who opposes him.
Meanwhile, the Broken Saints are devastated and lash out following the rampage from the Sons.
Thursday, July 13
Full Circle (MAX)
Full Circle is a new limited series from Ed Soloman, directed by Steven Soderbergh and featuring an all-star cast.
Claire Danes, Timothy Olyphant, CCH Pounder, Dennis Quaid, Jharrel Jerome, and Jim Gaffigan are among the highlights.
This wasn't to our taste, but fans of the creative talent might disagree with me wildly.
Star Trek: Strange New Worlds (Paramount+)
Timing is everything.
Recovering from a crash that happens during an exploratory mission is just part of being Starfleet, but recovering AND participating in an important ceremony with your antagonistic future mother-in-law while she bullies your mother and you've lost your ability to repress emotions is a whole other thing.
Can Spock manage to keep his cool (and his fiancée) while the Enterprise team tries to regain his Vulcan side?
Survival of the Thickest (Netflix)
Comedienne Michelle Buteau stars in this fun dramedy about Mavis Beaumont, a newly single, plus-sized Black woman trying to rebuild her life after a bad breakup.
Life as a stylist has its ups and downs, but there are plenty of laughs to be had along the way.
Survival of the Thickest pairs nicely with those who may also be just getting into or coming off of their Insecure binge since it recently hit Netflix.
Friday, July 14
The Summer I Turned Pretty (Prime)
Grab your beach blankets, your snacks, your tissues, and all your Taylor Swift music, and prepare for the emotional rollercoaster that is the sophomore season of this young adult series.
We're back at Cousins Beach with Belly, and the second season very much follows along with the second of Han's books in the series.
The love triangle is by no means set in stone and even kicks it up a notch as Belly faces summer with a bit of dread because of Conrad and Jeremiah's fighting over her, Susannah's health continues to be of concern, and someone unexpectedly threatens Susannah's home and everything they hold dear!
Too Hot to Handle (Netflix)
The guilty pleasure reality dating show that teases skin, sex, and beautiful scenery (unrelated to the skin and sex, just to clarify) is back with its fifth season!
Alexa has nothing on LANA, who has the daunting task of keeping all these horny hot people from hooking up with each other and costing everyone money. It's very much a losing battle.
But alas, get your look at the all-new season with this crazy batch of conventionally pretty people on a yacht trying not to do some forbidden dances with one another!