Three fantastic shows are dropping this week.
Prime Video has Outer Range, a family drama about the west with a distinctively otherworldly vibe about it. Apple TV+ gives women's voices a chance to shine with incredible stars and behind-the-scenes talent, and The Roku Channell releases its first series that makes a great first impression.
Find about all three series and so much more below!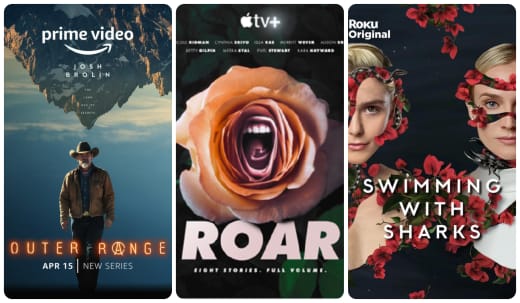 Saturday, April 9
8/7c Fallen Angels Murder Club: Heroes and Felons (Lifetime)
The Fallen Angels Murder Club Members must band together yet again as they look into the death of one of their own.
Unfortunately, once a reporter looking into the death also turns up dead, Hollis is placed in the center of the investigation as a suspect.
The fun murder-mystery series continues with an all-new installment.
Sunday, April 10
8/7c When Calls the Heart (Hallmark)
There's a lot more to Henry Gowan's concern over Jerome's involvement in the oil business than the oil business itself.
As automobiles grow in number in Hope Valley, the commotion surrounding the noise and congestion increases.
And Lee writes an editorial that shakes the town.
8/7c Power Book IV: Force (Starz)
The penultimate hour finds Tommy in all sorts of trouble.
And with his back against the wall, he turns to an unlikely person for help out of a jam.
This hour sets us up for what will surely be a killer finale, so make sure you watch this one live!
8/7c Killing Eve (BBC America)
Well Killing Eve fans, the final two episodes are here!
Killing Eve will wrap up with its final two episodes with it's two hour finale.
Will Eve, Villanelle, and Carolyn be able to achieve their goals? Watch to find out!
9/8c Outlander (Starz)
A dysentery epidemic spreads on the Ridge, and Claire falls deathly ill.
She is almost recovered when the Christies arrive and drop a bombshell on the Frasers. As nefarious rumors spread like wildfire on the Ridge, tragedy strikes.
The Ridge will never be the same again after this midseason finale.
9/8c The Walking Dead (AMC)
It's the last-ever midseason finale, and Lance and Leah are working together to take Maggie down.
This is an epic thrill ride from start-to-finish, and you will not believe the ending.
Seriously, avoid spoilers, and enjoy this one!
9/8c FROM (Epix)
As we get closer to the finale, things are starting to really heat up.
While Boyd continues to work on his plan to get everyone home, Jim and Jade push their radio tower theory further.
But will all this planning be for naught? You don't want to miss this one!
Will they ever find a way home? #FROMonEPIX pic.twitter.com/lBZYILb0ko

— FROM on EPIX (@FromOnEPIX) April 8, 2022
10/9c S.W.A.T (CBS)
S.W.A.T. is back to celebrate the series' 100th episode and it's going to be as intense as ever!
After footage sent to a news station shows Hondo killing two police officers, he goes on the run.
Meanwhile, 20-Squad tries to figure out who is behind it and clear their squad leader's name.
It's an exciting hour for the show's major milestone that you won't want to miss!
10/9c The Rookie (ABC)
Remember that dance that Bradford promised Chen a while ago? Well, Chenford fans will have something to rejoice about when that finally comes to fruition!
But what prompts that event? Possibly Harper deciding that she wants to marry James, although,it seems he may be having cold feet about the ordeal.
Meanwhile, the team investigate some good old fashion train robberies.
10/9c 61st Street (AMC)
From executive producer Michael B. Jordan, 61st Street follows a promising black high school athlete who is swept up into the infamously corrupt Chicago criminal justice system.
61st Street courses through the dark heart of the infamous Chicago criminal justice system as police and prosecutors investigate a deadly drug bust that threatens to unravel the police department's code of silence.
The series is executive produced by Peter Moffatt and from the moment it begins sucks you into the dramatic tale and all of those affected by it.
Monday, April 11
Days of Our Lives (NBC/Peacock)
Get ready for a ton of devilish drama as Ben and Ciara's gender reveal party for their baby takes a decidedly weird turn!
If the Devil isn't your thing, don't worry! There's plenty else going on, with Xander and Gwen being shocked to share the altar with Craig and Leo and Gabi's investigation into Ava hitting pay dirt!
Will Ava finally get the comeuppance she deserves for messing with Rafe instead of moving on?
8/7c 9-1-1 (FOX)
9-1-1 returns with an hour that's all about confronting your fears. Or maybe not so much in the case of some.
The team deals with a diving experience gone wrong, and spiders on the loose, while Maddie returns to LA and Eddie reaches his breaking point.
There's an awful lot happening during this installment! Make sure to check it out!
9/8c 9-1-1: Lone Star (FOX)
Lone Star is BACK with an exciting hour that's full of all kinds of delicious personal drama and some life-saving, too.
Tommy goes on her first date since Charles' death, which brings up a myriad of feelings, while Owen has some issues with his love life AGAIN.
Meanwhile, Carlos has a run-in with T.K's sponsor that's full of surprises!
9/8c All American: Homecoming (The CW)
The group shows how far they've come as they all support Keisha on the anniversary of her mom's death.
Damon struggles when an assignment hits too close to home with his family drama.
Meanwhile, Simone has her first college level tennis match and gets some encouragement from Thea.
10/9c The Good Doctor (ABC)
What on Earth is going on at St. Bonaventure?
Lim's seeing snakes that aren't there and other doctors are taking off their shirts and otherwise acting inappropriately.
Apparently, a tainted potluck dish is to blame for all of the insanity.
Shaun seems to be unaffected, though, since he's arguing with Glassman about the speed of a surgery and getting himself kicked out of the OR.
8/7c The Resident (FOX)
The Resident has been killing it, and this latest installment will be no exception!
The story arc with the fraudulent prescriptions written in Conrad's name comes into play again when Conrad confronts the pharmacy behind it all.
The scary part is that it will have some dangerous consequences. You won't want to miss this one!
9/8c This Is Us (NBC)
Get a couple boxes of tissues out, This Is Us fanatics. This is it… the end of Kate and Toby's relationship.
Toby comes home for good, determined to save his marriage, only to discover that it's not saveable.
The episode promises to move through several years of Kate and Toby's marriage so that we take the heartbreaking journey with them toward divorce.
10/9c FBI: Most Wanted (CBS)
Brace yourselves, Most Wanted Fanatics! Jess' replacement is here!
Dick Wolf masterclass veteran Dylan McDermott makes his debut as the new head of the unit, and Remy is not anything like his predecessor or McDermott's latest role, Richard Wheatley.
Tune in to see his spin on this new character!
Wednesday, April 13
8/7c Chicago Med (NBC)
Sharon has not had an easy time lately, and it's going to get even harder.
When her pregnant daughter shows up at Med, Sharon has to be the one to break the news to her that they can't save the baby.
If Sharon's daughter is half as headstrong as her son, she won't accept Sharon's advice very easily. Will Sharon lose both her daughter and her granddaughter?
10/9c Good Trouble (Freeform)
We're turning up for Dennis' 40th birthday with a '90s party, so you already know this episode is going to be fun as hell!
The eldest millennial in the house has had a long way to this point, so it's worthy of a celebration, and Isabella plans a grand bash for her friend.
Of course, Davia starts to wonder if she knows Dennis anymore and feels the distance between them, likely spurred on by Isabella and Dennis' closeness.
10/9c A Million Little Things (ABC)
While Gary waits for some life-changing news, the gang distracts him with a fun party and game night, and we're always here for the delicious drama that ensues when everyone is together.
Katherine brings Greta to the event, which is a surprise to many of her friends.
And Eddie comes to grips with the newness of his relationship with Anna despite the recommendation that he wait until he's sober for a year before he starts dating again.
10/9c Chicago P.D. (NBC)
Oh, we're pumped for an explosive new hour when Halstead takes a new recruit under his wing, but the two of them butt heads and may even come to blows when the kid's mysterious and complicated past comes to light!
Filthy Rich's Benjamin Levy Aguilar will guest-star on this hour, and it looks like it'll fire off on all cylinders! Let's go!
Thursday, April 14
Star Trek: Picard (Paramount+)
Get ready for a deep dive into Picard's psyche! Tallinn's firing up her Supervisor-tech doo-dad and leaping into our favorite Admiral's subconscious to rescue him from his memories! What will she find? Who will we meet? Will all the answers be in there?
Meanwhile, the Jurati-shaped Borg queen is on the prowl in 2024 Los Angeles! Exactly how much trouble can she get up to? Dare we imagine? Finally, will Kore confront her "father" with her discovery? So much is about to go down! Can we keep up?
8/7c Law & Order (NBC)
Although Law & Order is more about the cases than the cops solving them, it looks like we might be getting a bona fide personal story!
Camryn Manheim's Lieutenant Dixon has been an enigma so far, but now she is determined to stop a killer who she let get away two years ago.
We all know Manheim can handle the heavy stuff, so bring it on!
9/8c Law & Order: SVU
SVU's creepy new case is overshadowed by the fact that Rollins is finally back and ready to jump into the action!
SVU hasn't been the same without her, so let's see what she does when she and Fin go on a road trip to Kentucky to check out an assault that is similar to one they're investigating in New York City.
Back home, Benson is supposed to get intel that turns the case upside down… what could that be?
9/8c Legacies (The CW)
Hope's humanity continues to dig its claws into her, fighting for control.
Her loved ones return to help, including Rebekah, Marcel, Kol, and Freya, reminding her of the importance of family.
Cleo and Kaleb grow closer as Kaleb shows her more of his past.
Lizzie comes up with a plan.
10/9c Law & Order: Organized Crime (NBC)
Stabler's in a tough spot for a change, playing both sides as he tries to get the goods on dirty cop Donnelly.
Now that Santos is in custody, Stabler has to try to get him to flip on his supposed pal while at the same time convincing Donnelly that Stabler's loyalty is not in question.
The closer we get to the end of this arc, the more intense it's going to be. We're all in for this!
Friday, April 15
Outer Range (Prime Video)
A rancher fighting for his land and family stumbles upon an unfathomable mystery at the edge of Wyoming's wilderness, forcing a confrontation with the Unknown in ways both intimate and cosmic in the untamable American West.
Featuring an excellent cast, including Josh Brolin, Imogen Poots, Lili Taylor, and Tom Pelphrey, Outer Range keeps you guessing for the entire first season.
The season drops with two episodes today and two more every Friday for four weeks.
Roar (Apple TV+)
An enviable group of female talent is featured in this new anthology series from Liz Flahaire and Carley Mensch about ordinary women in extraordinary circumstances.
Every tale digs deep into women's psyches and how they conquer struggles truly unique to them.
Unfortunately, the whole series drops today, which disallows an extensive conversation about the episodes, but we'll have interviews for you leading into it. And yes, it's very, very good.
Swimming with Sharks (The Roku Channel)
Swimming with Sharks is a six-part series that follows Lou Simms as she starts her internship at Fountain Pictures.
While Lou may seem like a naïve Hollywood newcomer, awestruck by the studio's notorious CEO, Joyce Holt, landing this internship was no happy accident. As Lou's obsession grows, she will do anything to get close to her idol.
Filled with psychological twists and turns, the series' gripping storylines paired with powerhouse performances will leave audiences on the edge of their seat.
Donald Sutherland, Thomas Dekker, Finn Jones, Erika Alexander, Ross Butler, and Gerardo Celasco round out the incredible cast.
Pachinko (Apple TV+)
As Sunja continues to adjust to life in Japan, her relationships are put to the test.
Solomon's life got completely upended with the loss of his job, and the recovery won't be any easier.
Grandma Sunja continues her emotional journey through her homeland.
Carissa Pavlica is the managing editor and a staff writer and critic for TV Fanatic. She's a member of the Critic's Choice Association, enjoys mentoring writers, conversing with cats, and passionately discussing the nuances of television and film with anyone who will listen. Follow her on Twitter and email her here at TV Fanatic.